Coldrano
Goldrain (650 metres above sea level), with its 910 inhabitants, gently extends up the Vinschgau Sonnenberg and is part of the neighbouring village of Latsch. The area is known for its unusual vegetation and is an ideal starting point for high-altitude alpine walks with wonderful panoramic views.
Local attractions, recommended trips and hikes
Goldrain Castle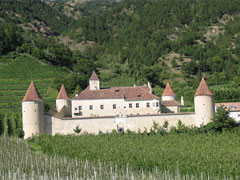 You can easily visit Goldrain Castle, which dates from the 11th century, as it's literally next door.
Annenberg Castle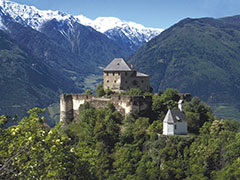 You can enjoy seeing this 13th-century castle with its 15th- century Gothic chapel whilst walking on the Vinschgauer Sonnenberg. As it's privately owned, it's not open to visitors.
Juval Castle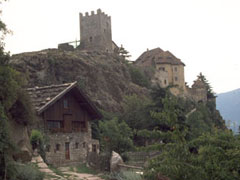 Built on a prehistoric site by Hugo von Montalbon in 1278, Juval Castle has been the home of mountaineer Reinhold Messner since 1983. It houses the most comprehensive collection of Tibetan artefacts in the world (outside Tibet) as well as an exhibition of mountain pictures and a large collection of masks from all five continents.
Churburg Castle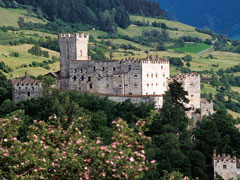 Dating back to 1260, Churburg Castle in Schluderns contains the largest private collection of arms in Europe and since 1504 has been owned by the Counts von Trapp. It's well worth a visit.
The Trautmannsdorff Castle Botanical Gardens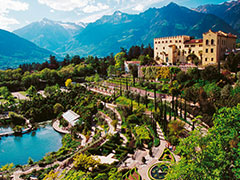 Don't miss these extensive gardens of Trautmannsdorff when in the Meran area; they are home to a collection of plants from all over the world, yet also feature the typical South Tyrolean environment too.
Ötzi the Iceman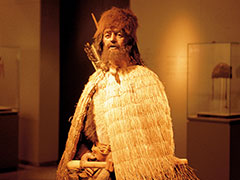 In the South Tyrolean Archeology Museum you can see the remains of this old hunter and some of his possessions You can also find out about the way he lived some 5,300 years ago, how he was found in the glacier and what research has revealed about him since.
Archeo Park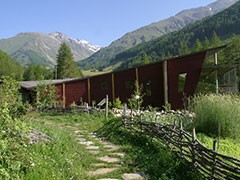 In the Schnals Valley (at 1500m feet above sea level) you can visit South Tyrol's only interactive archeological museum and see exactly where Ötzi was found.
National Park Centre Aquaprad
Situated in Prad, Aquaprad, the National Park Centre, gives you an insight into the strange submarine world and local fishlife.
National Park Centre culturamartell
In the National Park Centre culturamartell you can see an exhibition on four floors highlighting the development between man and nature, agriculture and cultural traditions of the Martell Valley.
St. Martin im Kofel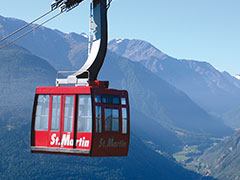 St. Martin im Kofel (at 1.740 m above sea level) with its 120 inhabitants and pilgrim church dedicated to St Martin is one of the most attractive sights in South Tyrol. With its position on the Sonnenberg, it's an ideal place to start a leisurely walk in the mountains and try some local specialities at small places of refreshment on the way , but climbers, too, come at their expense. Another tip is the walk from St Martin to Schlanders with its panoramic views.
Experience the Vinschgau by train and bike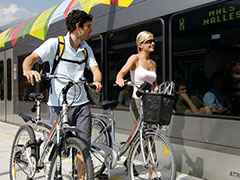 Try the new Vinschgau Railway, and explore the Vinschgau by bike and train.
Trips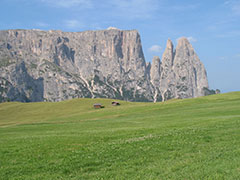 There is a wide choice of bus trips to Venice, Lake Garda, Verona, St. Moritz and to the Dolomites. Our tourist office at will willingly advise you.
Winter in Val Venosta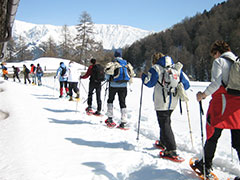 You can do pratise wintersports too at the Ortler Ski Arena Ortler Skiarena and The Two Country Skiarena where there are no end of opportunities to fulfil your wintersport dreams and try out the pistes.